My baby girl started sucking her thumb when just a few weeks old. I had no complaints - it was a comfort to her, it soothed her and hey, it was readily available at any time! Plus, yeah, it looked pretty cute...her thumb was just a teeny tiny little peanut! Adorable!! The habit quickly became just part of who she was. She continued to suck her thumbs (yes, either would do) avidly from then on - when sleeping, when tired, when upset, when bored. Good for all occassions, you might say!
Eventually we both worked up the resolve to try and move past this habit as it certainly looked like something she wasn't going to naturally drop (at 3.5yrs old) and it was starting to affect her teeth. Plus she was now old enough to understand and to want to try and be a big girl. Our start to this journey are chronicled
here
and
here
if you are interested in more info!
So for the past five weeks, she has not sucked her thumb at all. Apart from once or twice putting it in her mouth then quickly withdrawing, she hasn't even attempted it - to be honest I've been amazed and slightly shocked that this has all really worked! Thanks to a variety of techniques (documented in the previous posts), including our now beloved Elastoplast bandaids, plus of course her determination, we seem to be on the other side, where we can almost safely say she no longer sucks her thumb - wow!!
After her three day milestone, we decided to set the goal of one month and a reward of going out together for ice-cream (her idea) at the end of it. Well, actually it's been five weeks but we were away in Melbourne and I wanted to set aside a night where we could fully concentrate on her wonderful success. The count down was on and tonight was the night...
Of course first we had to cross off the final day on the chart...
As an extra treat, I allowed my clothes-obsessed little lady to choose her outfit for the evening - whatever she wanted. Of course she chose this huge Size 6 hand-me-down dress that's been hiding in the closet. With her 'party shoes' (of course), and 'stockings' and a turtleneck (well, that was my addition as the evening was brisk!). Looking a little like an Amish school girl, but what do I know?! Going out after dinner made the outing extra decadent too. Little Miss was verrrrry excited!
As we walked out the door Lily took my hand and said
'I'm going to share my ice cream with you, Mummy'
. *melt*
As we drove, we were discussing our favourite colours (big topic) and Lily was listing them all
'I love pink and purple and blue and green and silver and gold and black and you know what else I love? You. I love you, Mummy'
*double melt*
So, we cruised down to the local Goodberry's Frozen Custard (which is like, practically icecream, right?) for our treat. Lily got the kiddy special - chocolate custard, pink topping (added extra because ICE CREAM MUST BE PINK, OK!!), sprinkles, mini M&Ms (
Ooh, vitamins!
Lily exclaimed when she saw them!!??) and a Tiny Teddy to boot. Bonanza!!! Mummy didn't want Lily to eat alone, so forced down a rather delicious Peanut Butter Fudge and Oreo Mix (drool).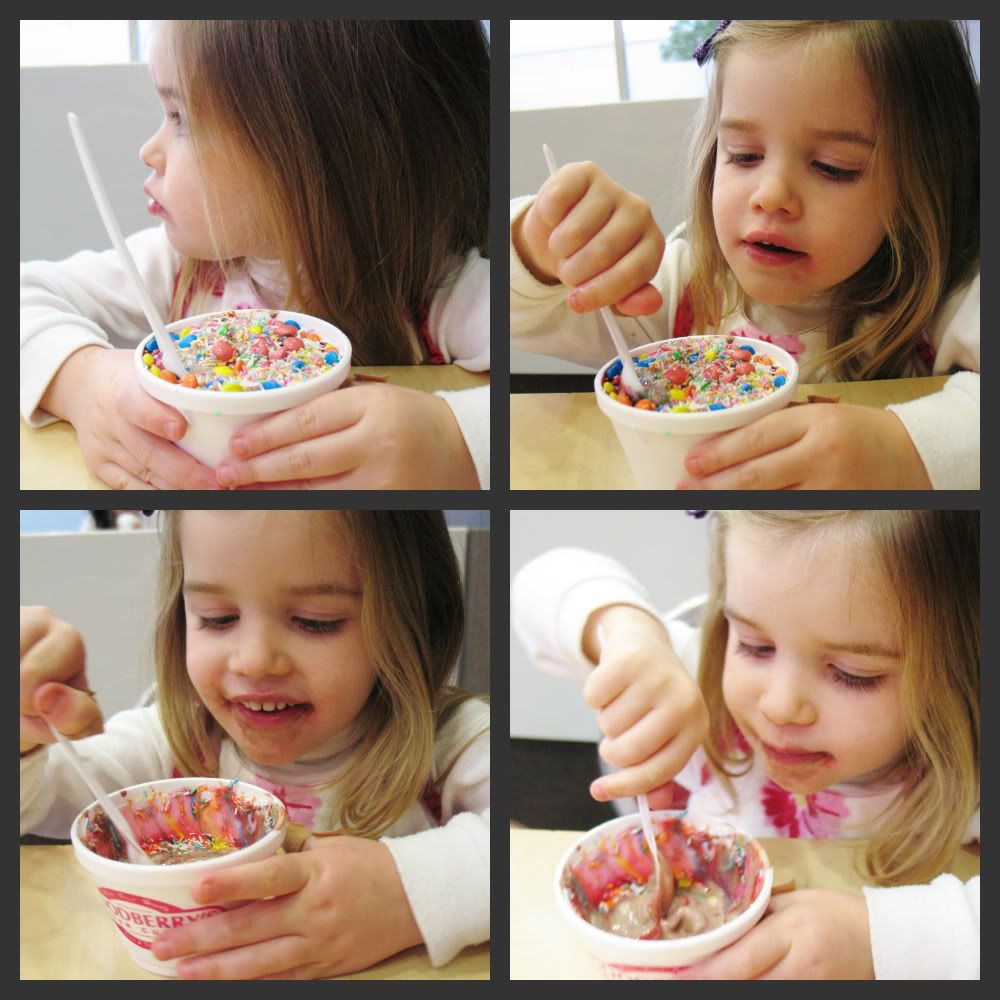 We had the cutest little time. Lily could hardly eat she was so enjoying watching everyone. Of course she did dig in with vigour, exclaiming
'I like my one!
' and nibbling ever so slowly. We chatted about this and that, and I told how very proud I was of how hard she had tried (ever so hard) to stop sucking her thumb. It was tough, it was heart breaking, it brought her to tears many times. But this little whisp of a thing is made of strong stuff. She kept trying, even when she failed, when it was hard, when she really wanted to stop, she didn't. A lifelong (literally) ingrained habit and her strongest form of comfort - gone. Habit broken. Deep down, to be honest, I didn't even know if she could do it. But she did. She has.
So it was wonderful to tell her how proud I was but more than that, how proud she could be of what she has done. She worked hard and she did it. I loved to see her pleased little face, Little Missie sure knows what a big deal this is, she knows she conquered her very own Mt Everest! I really wanted her to learn from this how persevering in challenges can pay off. She learnt it in spades.
'Thumbsucking
is for babies, I'm a big girl now I don't need to do it anymore!'
she said confidently.
In summary to this whole thumb-sucking saga... Although I'm definitely no expert, for any other parent going through a similar thing, I can share my top tips I have gained from all this! They would be to involve them in the process and get them to help set the goals/incentives (nail painting and ice-cream were all her ideas). Find their 'currency' - something that is meaningful for them. I don't think the same strategies will work for all kids, so if one doesn't work (after a decent go), try another. Set short and long term goals (three days and one month for us). Keep up the positive reinforcement, the praise, the encouragement. It's a habit, usually unconscious, so it is truly tough to break. Our winning combo in the end was Elastoplasts, rewards and a chart. And a truck load of encouragement and praise!
From here on in the plan is to remove the bandaids - she hasn't had them all the time and does fine without, but I have tried to keep them on most of the time just to ensure unconscious thumbsucking like while sleeping doesn't happen. I figured if we can stop it completely for over a month, now they are off it won't be automatic to plug them in right away!? If it begins to creep back, we can always use the Elastoplasts again. Lily asked lots of questions tonight about what happens now and she agreed just using the bandaids if needed as a reminder was a good plan!

So, I'm feeling a little whistful tonight, I admit. A treasured outing celebrating my baby girl and just a small glimmer of the things she will be able to work through and learn and overcome in her life. A little sad too to say goodbye to her sweet little habit that was always so much a part of her. My baby girl is a baby no more... the last relic of her babyhood is being left behind (excuse me while I sob)... so I'm a little bit sad but a lot more proud. Proud of how hard she worked. Proud to be the mother of this beautiful tender-hearted little soul. Actually, proud is not the right word - I am grateful - grateful to God that He blessed me with her.
Way to go, darling girl!