Our second day in Melbourne city, and more fun to be had! My sweet friend Tamara came to spend her day off with us, and it was lovely to spend time roaming the city with a local, checking out some more sights and of course I much appreciated the second pair of hands when navigating the busy city with two tiny ones!
As we checked out of the hotel today, it meant no 'home base' to return to - just me and two kiddos to keep ourselves busy in the city until Mark could finish work... possibly not till 5pm... which most likely meant no naps for the kids... eep!! Did I mention how grateful I was to have the gorgeous Tamara with me? The kids adored her and she was ever so gentle and engaging with them, we all enjoyed her delightful company!

After yesterday's
more child-focused adventures
, I was keen to hit up good old Bourke Street, the main shopping strip, even just to get a whiff of all that clothesy-goodness - even if actually doing much shopping was unlikely with our two little companions! It was fun strolling the street, we even had a look through the highly anticipated new Zara store...
It ain't Melbourne without a pic on top of the Purse!

Amazing wall at Sportsgirl - wish I'd gotten better pic but they are too quick!

Although I used to live in Melbourne and still visit family and friends there pretty frequently, staying in the city itself is quite novel and I enjoyed putting on my tourist hat and exploring it a-new - especially with the kids. One more thing I simply had to check off my list was a fabulous Melbourne coffee from one of those quaint little cafes you find tucked away in the city's many little laneways.
What can I say, my kids know their way around a Babycino...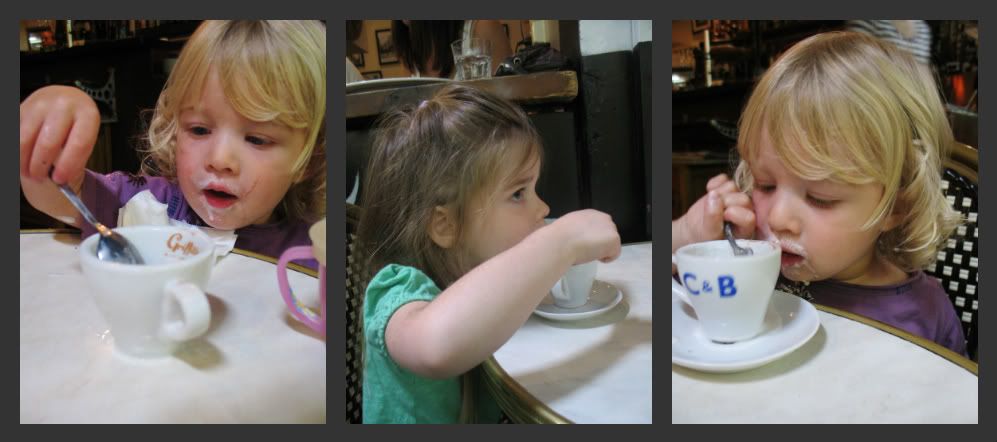 Thought this photo was fascinating - the scaffolding is holding up the stunning heritage exterior of the buiding (on three sides) while the inside has been completely gutted!!
Of course, being Melbourne we had to take a ride on a tram! Lily was super excited at the prospect of this strange Bus/Train hybrid! We found the free city circuit one and cruised for 30 minutes, enjoying the city sights and a break off our feet! So much to see...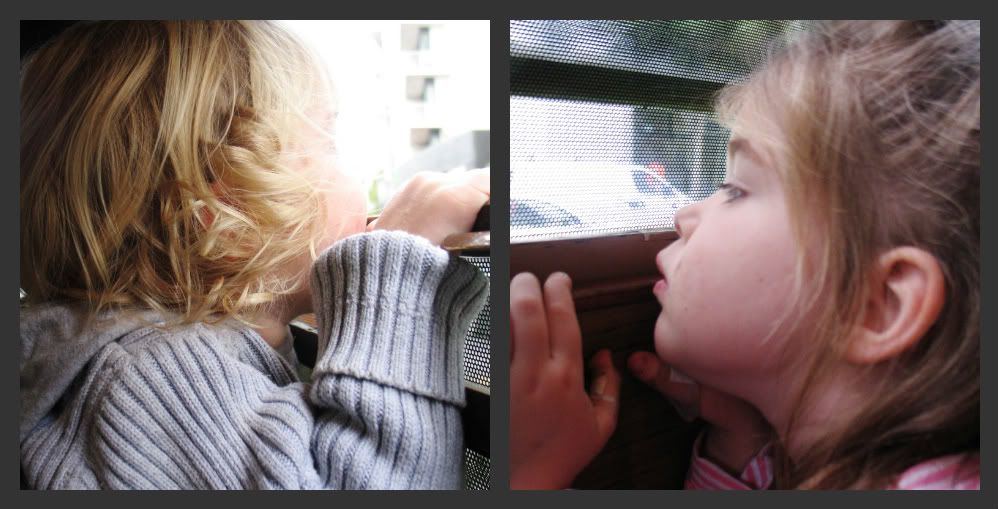 At this point it was 2pm. Tamara had to get going to work, and I was faced with two over-stimulated children, one exhausted mother, and Mark finishing his work at some undetermined time in the afternoon. Oh, did I mention it was the middle of nap time? And we were in the middle of the CBD??I should point out that the kids were happy as clams and still enjoying soaking up the thrills of the city but, wow, I was
tiiiiired
and I wasn't sure how much longer the kids could hold out - or me either! Oh and yes of course, the sky was looking ominously grey. Like, this sky was no longer just joking around like it had been the last day or so... Cue Law and Order-type ominous tones...
I had noticed the State Library when we came into the city, and decided to check it out. In we wearily rolled and I asked with trepidation at the front desk if there should happen to be a kid's section. Yes, there was. I seriously could have kissed this nice young librarian!!!! We cruised past the hundreds (literally) of studious Uni students and into a truly magical Children's area. Bean bags, colouring-in tables, piles of books, little tents to read in, toys. I could have wept!
I flopped onto a bean bag, snuggled up with my babies and we spent a good hour or two just reading, snuggling, colouring and chilling out. Just what we needed - I was soooo grateful for the tax-payer dollars that funded this beautiful little area!!
I had the most lovely time snuggled up with my little bookworm. We took turns reading and of course Eli did all the page-turning (oh, those agile little fingers!) - and with some tricky one handed camera handling, I managed to snap some shots of our reading time. I was so thrilled with what I got as it so perfectly captures so many hours we spend together. Love reading with my boy... just bliss!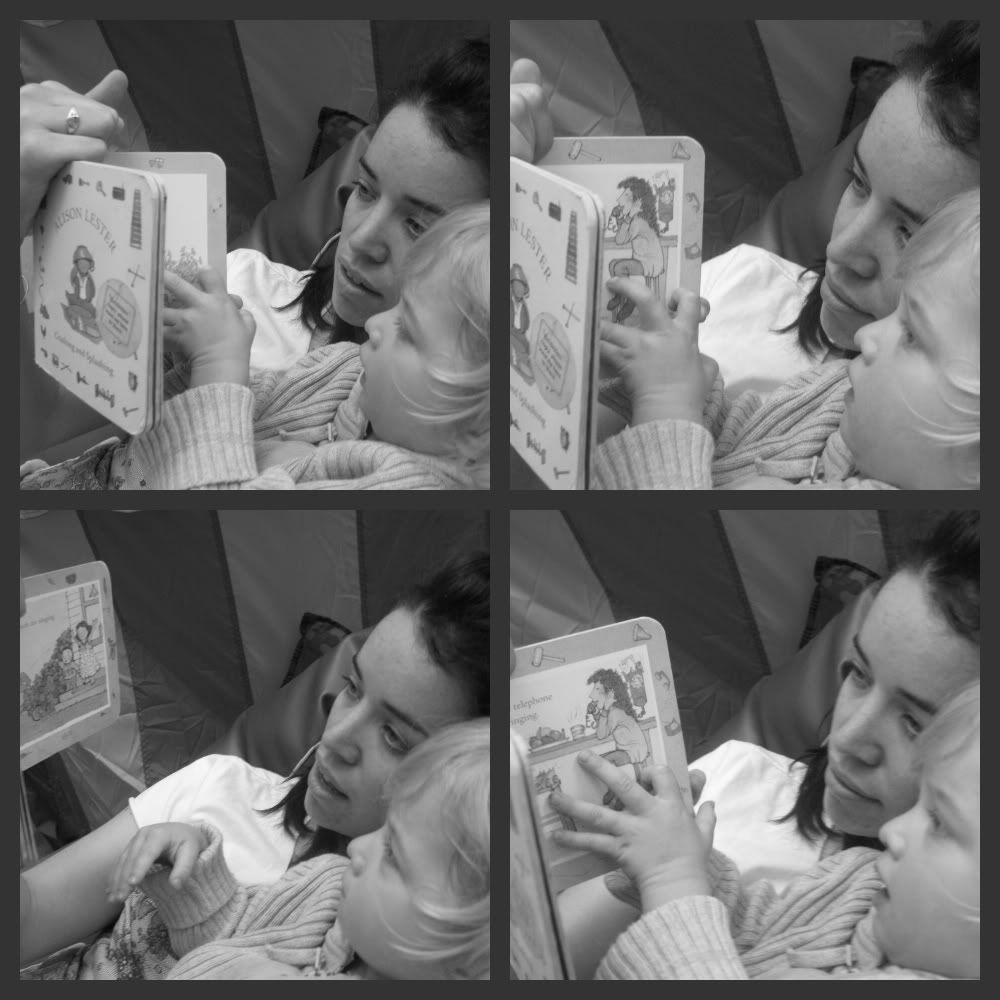 A castle for your reading privacy needs
Love me some forward-facing bookshelves - the kids do too!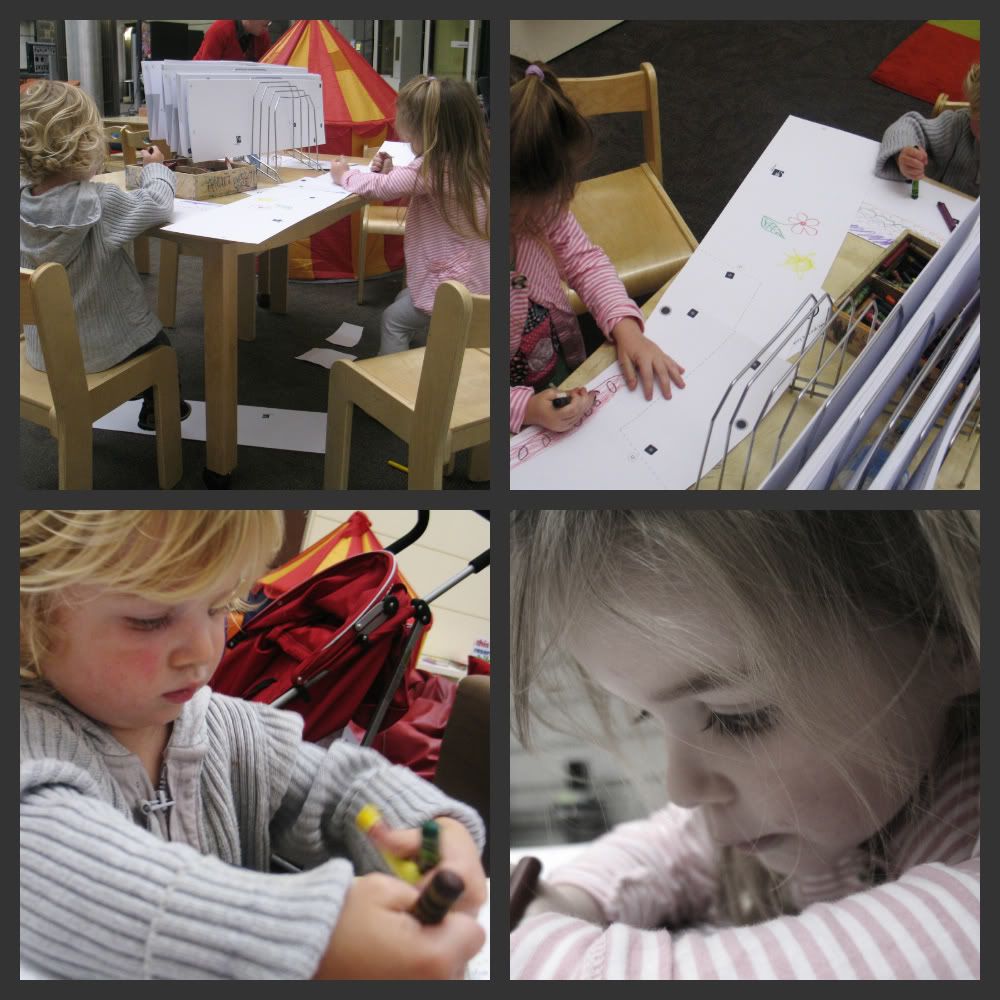 At 3.30pm, Mark called to let us know he was done. Thankful it wasn't a 5pm finish, we made our way back to the hotel to get our car and bags. A good 20 minute walk. Of course, by this point it was pouring rain!!! I gave my tiny umbrella to Lily, put the extremely-inadequate travel pram hood over Eli and set out. Eli finally fell asleep after his massive day out, completely zonked out with heavy rain drops plopping on his oblivious face... poor dear! Needless to say, I got soaked, but the sight of Lily zipping around the pavement like a little orange beetle kept the smile on my face. It was a wonderful day, full of adventure and now it was time to leave the city and head out to the Mornington Peninsula to see my sister!
What a day - a very Melbournesque day indeed!