Of course part of the fun of Easter with kiddies is setting out the Easter baskets, which I almost forgot about this year due to all our visitors and what-not. We had an egg hunt the night before as we had some other kids visiting so the chocolate quota was already pretty high! Being the cruel parents that we are, we opted not to buy the kids any Easter chocolate ourselves this year as they were already spoilt by friends and family (yes, doting grandparents, I am looking at you!) and we didn't want to overload them. Chocolate and such are very occasional foods in our home and while I don't mind them getting treats sometimes especially at Easter, I didn't want to over-do it especially as I knew it would already be more than they could truly appreciate. Kids don't need much to get the excitement going, do they?!
Mark's parents are renowned for sending gorgeous packages all the way from Perth for every special occasion and often 'just because', and of course a big box arrived for Easter! Always greeted with cheers in this home, I assure you! Of course they sent chocolate (yes, for the parents too, yippee!!) but they also always send beautiful books and other thoughtful treasures like stickers, craft, and so on. Thoughtful, caring boxes of love, always such a blessing. We also got the kids a book to share for Easter, so rest assured they had a good haul - just not super high in chocolate!
These hilarious Easter baskets were from Mark's parents last year and of course are going to be trotted out each year from now on! So cute.
Wow!!! The Easter bounty awaits...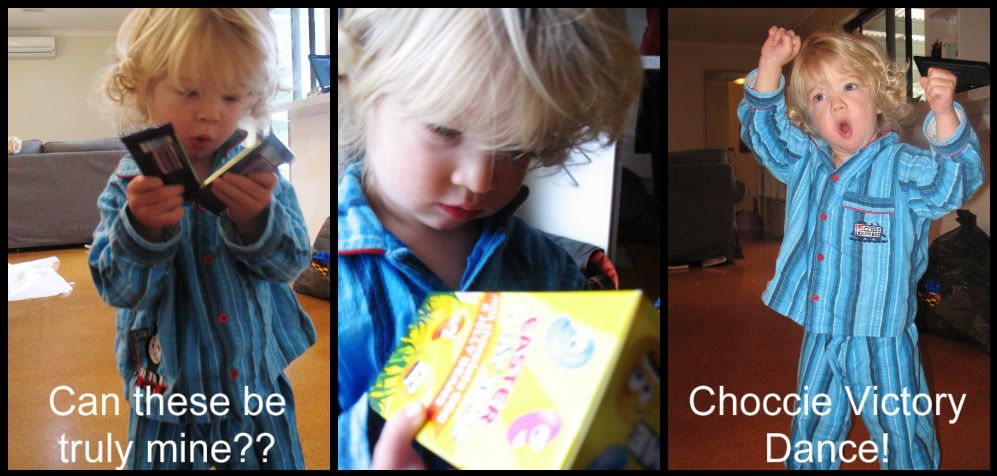 Look what we got, Sister!
After church, we cruised with our visitors to the ever-fabulous Bus Depot Markets, which had a special vintage focus that week. We had a yummy lunch on the grass outside, browsed some trinkets then booked it home as the kids were *exhausted* and possibly on a shocking sugar-come-down.
Of course, it wouldn't be an Easter evening for parents of young children without making the selfless gesture of helping the children prevent tooth decay, quietly helping them out with their bit-too-big chocolate stash while the cherubs sleep off their aforementioned sugar high. Yeah, 'cos we are just that loving. I did it for their own good, ok??!!