Autumn in Canberra is a truly beautiful time... yes the nights are
suuuuuuurreeee
getting chilly, but the days are crisp and sunny and
oh
the gorgeous Autumn leaves everywhere - in every shade from Sunny Yellow to Claret Red. Props to Walter Burley Griffin for importing all those European trees to compliment our lovely natives... (I have a feeling there is probably downsides to these imports but you know... they are pretty!!). Kicking through piles of crunchy leaves during Autumn is a Canberra tradition, and we love it!
So of course we had to get out and collect some of these beauties.... time to do another Nature Collage, but with an Autumnal theme this time. I armed the kids with a little bucket each and we strolled around our block, to '
see what we could see'
and collect whatever treasures took our fancy!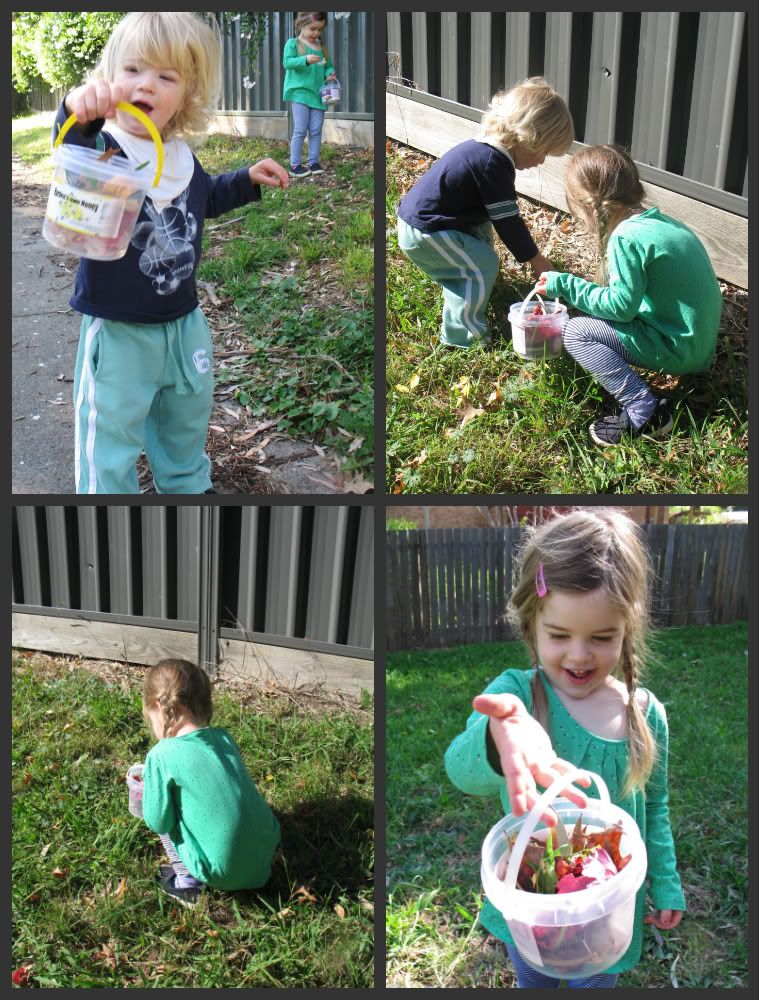 Always hand in hand...
The
NON
-highlight of the outing was when Lily was happily sitting on the ground sorting through sticks and I realised she was half-sitting on a decomposed magpie carcass. *
shudder
*gag*
shudder
*
Apart from that horrifying moment, it was a lovely little adventure, seeing the kids enjoying
really
looking at their surroundings, at all the unique and amazing kinds of leaves and grasses and sticks and bark. So much to marvel at in all their tiny miraculous details.... especially with the eyes of children who take pleasure in the smallest of things. What a beautiful world God made for us to enjoy! How sweet it is to slow down and just take the time to see the world anew through their eyes, to stroll along without hurrying them (for a change), without a destination in mind except to
be
there and
see
things and
enjoy
life together. These are the days...
Our Autumn Bounty!!
Once home, I then set the kids up at their outdoor table (did I mention it was gloriously sunny?!) and unpeeled a sheet of clear contact paper for them both, putting it sticky side up on the table. Then was the
reallllly
fun bit - sticking on their collected treasure in whatever fashion took their fancy. Hmmm, I really should have peeled a bit of contact paper for myself as I was simply dying to get involved!!! So fun!
Lily of course had the time of her life. In her element! Her leaves were not randomly placed but of course represented people and rivers and clouds and so on... laid out in some purposeful fashion suiting the story unfolding as she chattered away...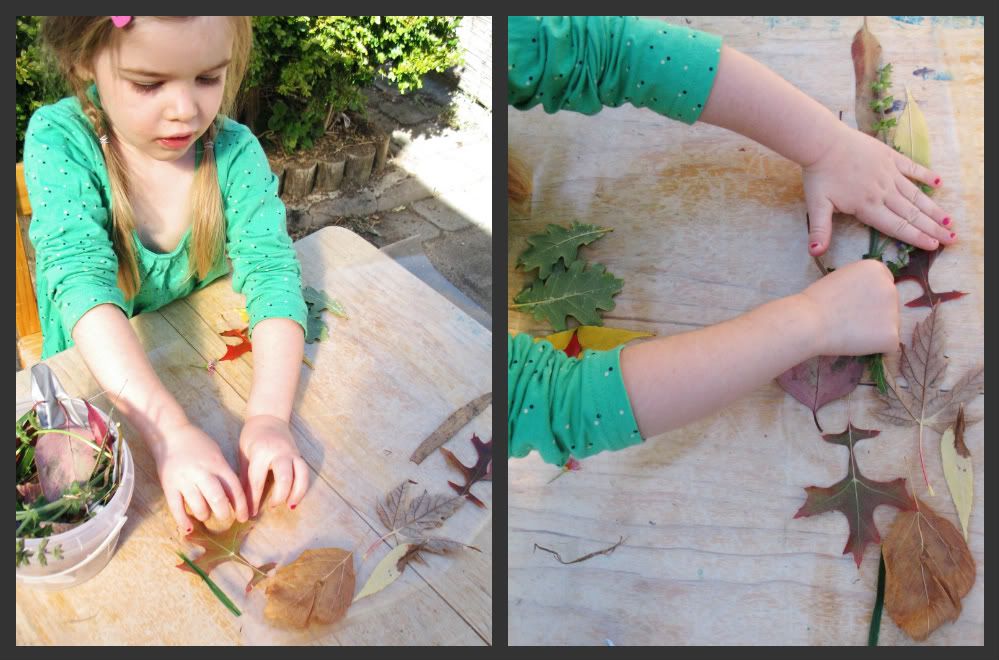 Of course after about five seconds, Eli's page looked like this...
At which point we both gave up! :) The sticky paper was just a bit beyond him but he was happy to play with the leaves and potter around while Lily did not one or two but three collages!
The finished products - simply stuck onto large sheets of white paper to be added to Lily's gallery. As you can see, the artist got more minimalist throughout her career....
Happy and rich Autumn colours, a relaxed and sweet outing, a fun and simple project and some precious memories to display.
All in all... good times and great blessings! Did I mention - we love Autumn ;)